A commentary on this summer's Democratic National Convention in Los Angeles, with a focus on the demonstrations that took place outside the convention written on 19th September 2000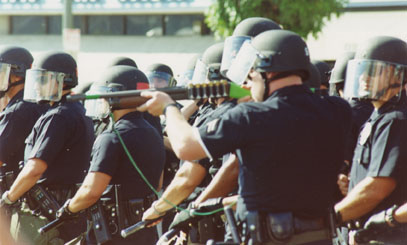 LAPD excercising their weapons. Photo Credit: Independent Media Center, Los Angeles.
The Democratic National Convention (DNC) came to Los Angeles this past August and brought with it thousands of Democratic party delegates, thousands of activists, and thousands of police. If you followed the news about the DNC, chances are you may have missed …
Yesterday I was arrested.
A few minutes ago I heard journalist Alan Nairn's latest cellular phone call to Pacifica radio. He read a statement which he gave to the Indonesian military, who are "detaining" him in West Timor. The officers and generals and secretaries are trying to decide what to do with him. Meanwhile their underlings viciously scour the countryside of East Timor to kill what is left of Timorese resistance, their "effort to annul the people's choice," in the words …