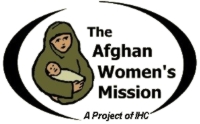 In summer 2000, Sonali Kolhatkar and James Ingalls, joined Steve Penners to start a non-profit organization called Afghan Women's Mission (AWM). The goal of the organization was to financially support the projects of the Revolutionary Association of the Women of Afghanistan (RAWA). We were so moved by the courage and vision of RAWA in their struggle for democracy and women's rights against all odds, that despite our lack of experience we were determined to make a difference. After the 9/11 attacks in New York and Washington DC, RAWA and AWM gained prominence and were able to raise money to run many constructive projects in Afghanistan and the refugee camps of Pakistan, such as schools, orphanages, literacy courses, health clinics, etc.
Since then AWM has organized numerous large and small fundraisers, held a conference, a yearly Holiday bazaar (selling Afghan-made crafts), and kept Americans informed about the on-going work of RAWA and the war in Afghanistan.
Today AWM is run by Sonali and Jim out of their home, and, together with a small network of dedicated volunteers, continues to raise money for RAWA's projects. Find out more at www.afghanwomensmission.org.